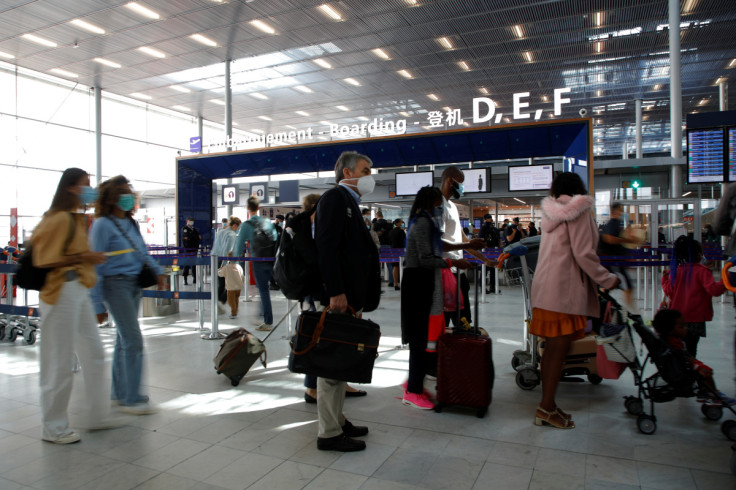 IMPORTANT POINTS
A video showed the woman dispatching a fire extinguisher inside Hartsfield-Jackson International Airport
Three flight attendants at the airport were left with respiratory discomfort
The woman also spat and kicked at officers during the arrest, the police said
An Ohio woman was arrested Wednesday after releasing and spraying a fire extinguisher at flight attendants and police officers at Hartsfield-Jackson International Airport in Atlanta, Georgia, authorities said.
The woman, identified as 27-year-old Jennifer Holder, set off the fire extinguisher at Gate D-9 of the airport around 9:34 p.m. Wednesday, according to a news release from the Atlanta Police Department.
Atlanta police responded to a call of a "suspicious female" who allegedly attempted to open secured doors inside Concourse D at the airport.
"Officers were informed that a woman, identified as Jennifer Holder, was in Street D-9 and set off a fire extinguisher inside the hall," police said, according to ABC News. "Officers attempted to make contact with the female, but she was non-compliant and sprayed officers with the fire extinguisher."
Responding officers were able to tackle Holder to the ground and drag her away from the gas cloud produced by the discharged fire extinguisher.
A video of the incident was shared on Instagram by @altscoop.
Holder allegedly continued to resist arrest after she was arrested by authorities. She was behaving "erratic and belligerent by spitting and kicking officers," according to police.
Three flight attendants at the airport were left with respiratory problems after being sprayed with the fire extinguisher, according to the Atlanta Police Department. They were treated on the spot.
EMS personnel also treated Holder for minor self-inflicted injuries during the incident. She was immediately taken to the Clayton County Jail afterward.
Authorities have not disclosed the motivation for Holder's actions. An investigation into the case is ongoing.
According to arrest records obtained by Inside Edition, Holder is from Dayton, Ohio, and faces two counts of simple assault, three counts of aggravated battery and one count of obstructing or hindering police officers.
She remains in the Clayton County Jail on a $19,500 bond. Apart from this, she will be required to pay additional fees of $3,150 before she can be released.