Food
My favorite Parisian food street can be found on the eclectic, electric Rue du Faubourg Saint-Denis, which offers both cheap and cheerful classic French dishes and a rainbow array of ethnic cuisines: Turkish, Kurdish, Indian, Senegalese, Lebanese.
For traditional food, Bouillon Julien is unbeatable with opulent art nouveau decor and a genuinely affordable menu; egg mayonnaise €3.90, beer-braised choucroute €11. Just be prepared to queue for a table. Further up the street, Le Daily Syrien Veggie offers tasty mezze, while Urfa Dürüm's hand-rolled wraps take a bit of a beating.
The best food deals are always at lunchtime, with bistros offering a reasonable price plat du jour or a set menu, while neighborhood bakeries offer affordable lunches, often at a table on their sidewalk patios—a thick baguette sandwich, patisserie and soft drinks for €6-8.
Right in the heart of the Latin Quarter, lunch at L'Assignat is reminiscent of a French film from the 1960s: walls covered with exhibition posters, Sorbonne students at the bar, happy foodies tucking into plates of homemade pâté and blanquette de veau (€14 fixed lunch), prepared in the small kitchen by the cheerful chef-owner Gérard. Not many authentic places like this exist anymore.
Remember that most Parisian districts have their own market where you can find food stalls or enjoy a plate of oysters outside the fishmonger. Bistrots around the train stations in Paris always offer great deals, like my local Le Relais Diderot, where chef Ali, an Algerian Berber, is open all day and serves a hearty vegetarian couscous for €9 or French dishes of the day such as beef frites or boeuf bourguignon (€9 ,50).
Museums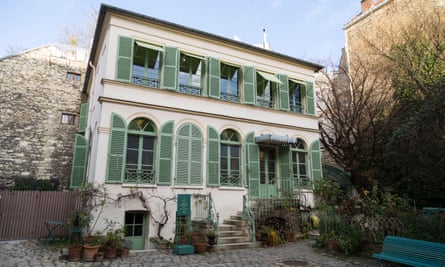 Paris City Hall oversees nearly a dozen small, informal museums that do not charge admission. My favorites are the Carnavalet, which illustrates the history of the City of Light, recently reopened after a wonderful restoration; and up in Pigalle, the Musée de la Vie Romantique is a hidden gem. While the Grand Palais is closed for renovations, the permanent collection of the equally ornate Petit Palais is free every day, as is the larger Musée d'Art Moderne opposite the Eiffel Tower. And there is always a free temporary exhibition inside the grandiose Hôtel de Ville itself; right now Capitale(s) is dedicated to Parisian street art.
For those who really want to hit the blockbuster museums, on the first Sunday of every month there is free entry (online reservation is mandatory) to most of the museums' permanent collections (not temporary shows), from the Louvre's masterpieces to the wonderful Impressionists in L'Orangerie and the Musée d'Orsay.
Attractions
The historic Père Lachaise cemetery is the one Parisian sight I return to again and again. It's a quiet oasis where I like to get lost, always finding new discoveries hidden among the narrow maze of winding alleys lined with thousands of ornate tombs, leaving tourists to scrutinize their maps to track down the graves of Jim Morrison, Oscar Wilde, Edith Piaf, Marcel Proust and Marcel Marceau.
It's a delightful waterside walk along the Canal Saint-Martin, with its funky bars and bistros, up to the Bassin de la Villette, where barges moored at the quayside of what is now the Ourcq Canal serve as venues for live concerts, until the waterway goes into the giant Villette park, perfect for a picnic on a sunny day.
Instead of joining the crowds at Montmartre's iconic Sacré-Coeur, I prefer to hop on the high-speed RER subway to the equally impressive Saint-Denis Basilica, where almost all of France's kings are buried. The seedy suburb of Saint-Denis is a world away from central Paris, with its teeming Saturday street market and raucous African eateries, but the 12th-century Gothic cathedral never takes my breath away.
Many Parisians' favorite green space is the Jardin des Plantes, an ancient botanical garden dating back 400 years, which is a riot of colorful flowers and exotic plants.
For bargains, forget famous department stores like Galeries Lafayette and head to one of the great weekend flea markets. Guidebooks will say Clignancourt is the biggest and best, but I prefer the disheveled Puces de Montreuil, great for vintage fashions.
Bars and cafes
After leaving the vibrant nightlife along the funky Rue Oberkampf, I prefer to continue to what for me is the ultimate rock'n'roll bar, Aux Folies in Belleville. Surrounded by the glittering retro decor of a 19th century cabaret, with great music on the sound system, grab a table and order a glass of house wine, pint or pastis for €3-4 and relax and enjoy this slice of local Parisian life .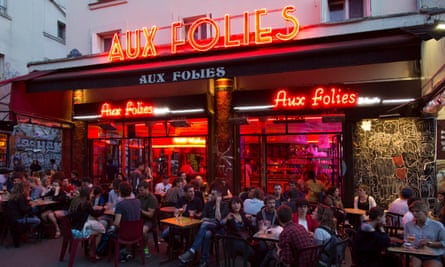 In the now-trendy food and flea market of Place d'Aligre, Le Penty stubbornly resists gentrification, with the genial patron, Monsieur Jojo, serving his signature tall glasses of steaming mint tea with crunchy pine nuts for €2.30. Weekend shoppers tuck into a tasty croque-monsieur, locals crowd around the bar, while market traders and green-uniformed street cleaners stream in and out for a quick coffee. For Saturday night bar hopping, just head back to Faubourg Saint-Denis, which teems with revelers until the early hours.
Kick off at the street's cheapest watering hole and with the longest happy hour, the wild corner bar Le Château d'Eau. There is no guarantee when you get home. On Sunday evenings, the sizzling bar bistro Le Quartier Rouge hosts free live jazz sessions from 18.00. They serve tasty food and there is no concert fee for drinks – just be sure to put some money in the hats of the musicians.
Where you will live
Generator Paris has dorms and private double rooms – plus a funky rooftop bar – close to Gare du Nord for Eurostar, from €23pp in a dorm or from €78 for a single double. For a more locally trendy hostel, The People in Paris Nation (also with a rooftop bar) offers a bed in an eight-bed dorm from €31.50pp.