A few years ago, Mary Earps considered retiring after being dropped from the England team – now she is a European champion and one of six goalkeepers nominated for Fifa's best award.
It has been a remarkable turnaround for Earps, 29, who could not have imagined the successes to come in 2022 when she sat on the bench as third-choice goalkeeper at the 2019 World Cup.
Over the past 18 months, Earps has consolidated her position as England and Manchester United's undisputed number one, starting every game as the Lionesses won Euro 2022 and recently becoming the first goalkeeper to keep 50 clean sheets in the Women's Super League.
Recognition has since come thick and fast for the Earps, and there could be more to the Fifa Best awards.
"I was blown away [to be nominated]. There aren't many prices around for goalkeepers," Earps told BBC Sport.
"I texted Mom and Dad right away. They humbly replied with just 'well done'. It was a standard Earps family response, super chilled. It's very nice and the real icing on the cake.
"It doesn't happen often, and it never happens to me, so I forget about it [these awards] exists in a way. To be named on the shortlist, it came out of the blue, and that was really cool."
"Without rain you don't get rainbows"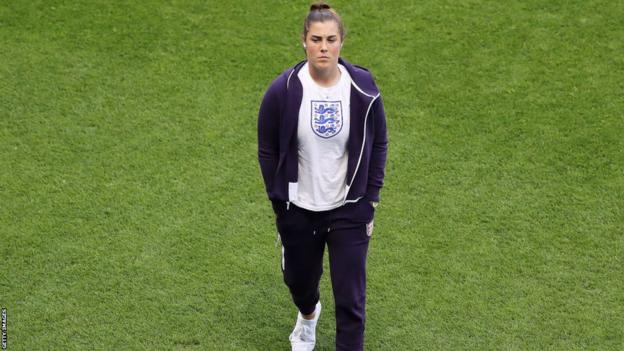 When the Earps started at Wembley against Germany in 2019she thought it was her chance to prove herself to then England manager Phil Neville.
But she was left out of the next squad and would not represent her country for another two years. She accepted that her international career was over and considered retirement.
"Without rain, you don't get rainbows," Earps said as she reflected on her 2022 accomplishments and how much things have changed.
"People keep asking how I'm ever going to top 2022 and I'm like, 'I have no idea.' It's more about having a different perspective on things.
"Life has been pretty good the last 12-18 months with everything that's happened. The things we've achieved have been so much fun. But there's a very dark side to this game and life.
"Sport is an intense window into what life looks like. Life isn't always wonderful and you don't always feel good. Work isn't always wonderful. I've experienced that in a very real way in football.
"I like to see it as the beauty of where I've been where I am now and appreciate it a little more."
Earps, who has degrees in information management and business studies, has had to adjust to her newfound success.
She is stopped for photographs, seen in airports and on the street – she even has a bus named after her in her home town of West Bridgford, near Nottingham.
Before the Euros, she took a step back from social media, deactivating her Twitter account to avoid "distractions".
"I didn't think people would take pictures with me or want to talk to me. I never expected that," Earps said.
"Generally, if it's a billboard, a striker will be on it. I would have been out [England striker] Alessia Russo for example and she was asked for a picture. It was normal.
"It started happening to me too! I wouldn't say I'm famous by any means, but it's nice to be recognized in my industry and the women's football industry.
"Having people talk about my achievements as a goalkeeper has been so much fun. People would only talk about me when something had gone wrong. Now it's nice."
"Life before and after Sarina is completely different"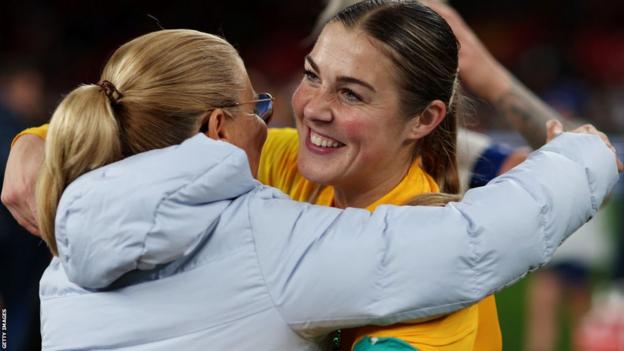 When Sarina Wiegman arrived in England in September 2021, she remembered Earps after a two-year absence and made the goalkeeper number one for the EC.
"The reality is my life before Sarina Wiegman and my life after Sarina Wiegman are completely different," Earps said.
"I will always have the utmost respect and admiration for her. It's about the way she has dealt with me, communicated with me and tried to get the best out of me.
"I had lost a lot of confidence and belief in myself before she came around. To have the floor completely taken out from under you out of nowhere is something that is very difficult to process and deal with.
"When Sarina came in and picked me for the squad I just thought I'd go, do my best and have no expectations. The way it all went… I could never have written that in a million years.
"I was just so grateful that I got an opportunity. It's all I ever wanted and Sarina gave it to me."
Earps said Wiegman's confidence in her is an "incredible feeling" and that the goalie is able to express herself on the court.
"I feel very good. I really like my football and playing. I want it to continue," she added.
"I still want to win more things, but I have to keep grafting. I want to play at the highest level I can."