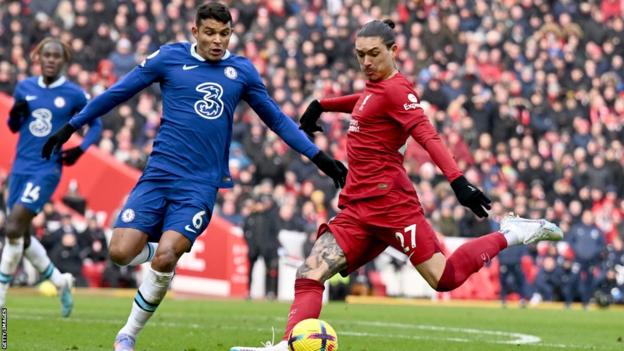 Liverpool and Chelsea have produced a long history of dramatic occasions and classic matches at Anfield. This was not one of them.
When referee Michael Oliver blew the final whistle, Anfield's near-silence was a brutal reflection of the fact that this game was nowhere near as entertaining as the 0-0 scoreline might suggest.
Indeed, Anfield was muted throughout as two of the Premier League giants – currently going through a period of back-to-back struggles – provided graphic evidence of why their respective campaigns are underachieving.
Liverpool and Chelsea, in their defence, can offer mitigating circumstances in the form of injuries and – in the visitors' case – a remarkable trip in the transfer market which has seen an almost coach-load of new arrivals at Stamford Bridge requiring integration.
However, there was still enough quality on the pitch to produce better than the monument to mediocrity erected by Liverpool and Chelsea during those 90 minutes.
The Premier League table tells the story of how the two sides, locked in relentless pursuit of major prizes in recent years, have currently fallen from their former standards.
At the final whistle, Liverpool were in eighth position and Chelsea two behind them, nine points off the top four and the precious Champions League places after a dismal encounter with just five shots on target.
There was absolutely no way for Liverpool Jurgen Klopp to celebrate his 1,000th game in charge.
This is why the pervasive feeling after this game, apart from a grim anticlimax, was that if you offered both Klopp and Chelsea colleague Graham Potter a place in the top four at the end of the season, they would shake your hand vigorously.
Klopp and Potter will both be looking for bright spots and signs of optimism in any game, and Chelsea can at least look to one of their many new signings as a big positive to take from this stalemate.
Mykhailo Mudryk was wanted by both Arsenal and Chelsea when it became clear that Ukrainian club Shakhtar Donetsk wanted to make a deal for the exciting 22-year-old.
Arsenal hoped they had their man, but Chelsea stole in and if the indications of his 35-minute cameo are anything to go by, you can see why.
Mudryk caused panic in Liverpool veteran James Milner, unsurprisingly as Chelsea's £89m forward gave his opponent 15 years and several meters of pace in an unfamiliar right-back position.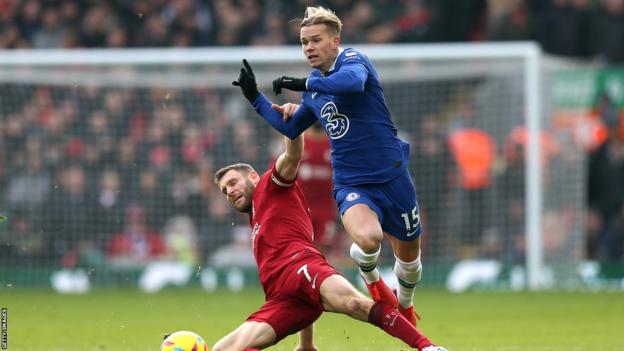 Milner was forced to pick up a yellow card for pulling down Mudryk as he raced past him and it was no surprise when Klopp quickly replaced him with Trent Alexander-Arnold.
One spirited run ended with a shot into the side netting, and a couple of ghost runs that left him unmarked at the far post didn't quite reward him. Very early days, but the signs were promising.
Chelsea's other new boy, defender Benoit Badiashile, was also solid although he was guilty of wasting his side's best chance when he let Liverpool goalkeeper Alisson save a header in front of The Kop when he should have scored.
Klopp could be reflecting on a clean sheet without defensive lynchpin Virgil van Dijk, but there is no doubt that the team that chased four trophies last season – winning the League Cup and FA Cup by beating Chelsea on penalties after goalless draws – is a long way off away from his best. measured in quality and intensity.
To some extent this is understandable as Liverpool are currently without the injured Van Dijk plus the attacking trio of Luis Diaz, Diogo Jota and Roberto Firmino, but there simply isn't the same energy in the team in any form at the moment.
Klopp joined his squad with £45million signing Cody Gakpo and he is in a settling-in period adapting to the demands of the Premier League. He struggled to make any impact apart from one shot on the turn which was saved by Chelsea goalkeeper Kepa in the second half, but Klopp will manage his introduction carefully and this will be made easier after he was able to reintroduce Darwin Nunez as a substitute in the second half after injury.
In reality, however, Liverpool and Chelsea are struggling with a rare match.
Liverpool have failed to win in their last three Premier League games and it is the first time they have had to score in consecutive games in the league since March 2021.
Chelsea, meanwhile, are without an away win in the Premier League in their last six games, their worst run since September to December 2015.
Anfield's indifference at the final whistle was a natural reaction to what the capacity crowd had witnessed, with little to warm them in Merseyside's sub-zero temperatures.
This looked like a mid-table match. It sounded like a mid-table match. And this is because at the moment it is, more or less, a mid-table battle.