An exciting new mod for Metal: Hellsinger adds full VR support to the rhythm-based shooter, allowing players to experience the game in a whole new way.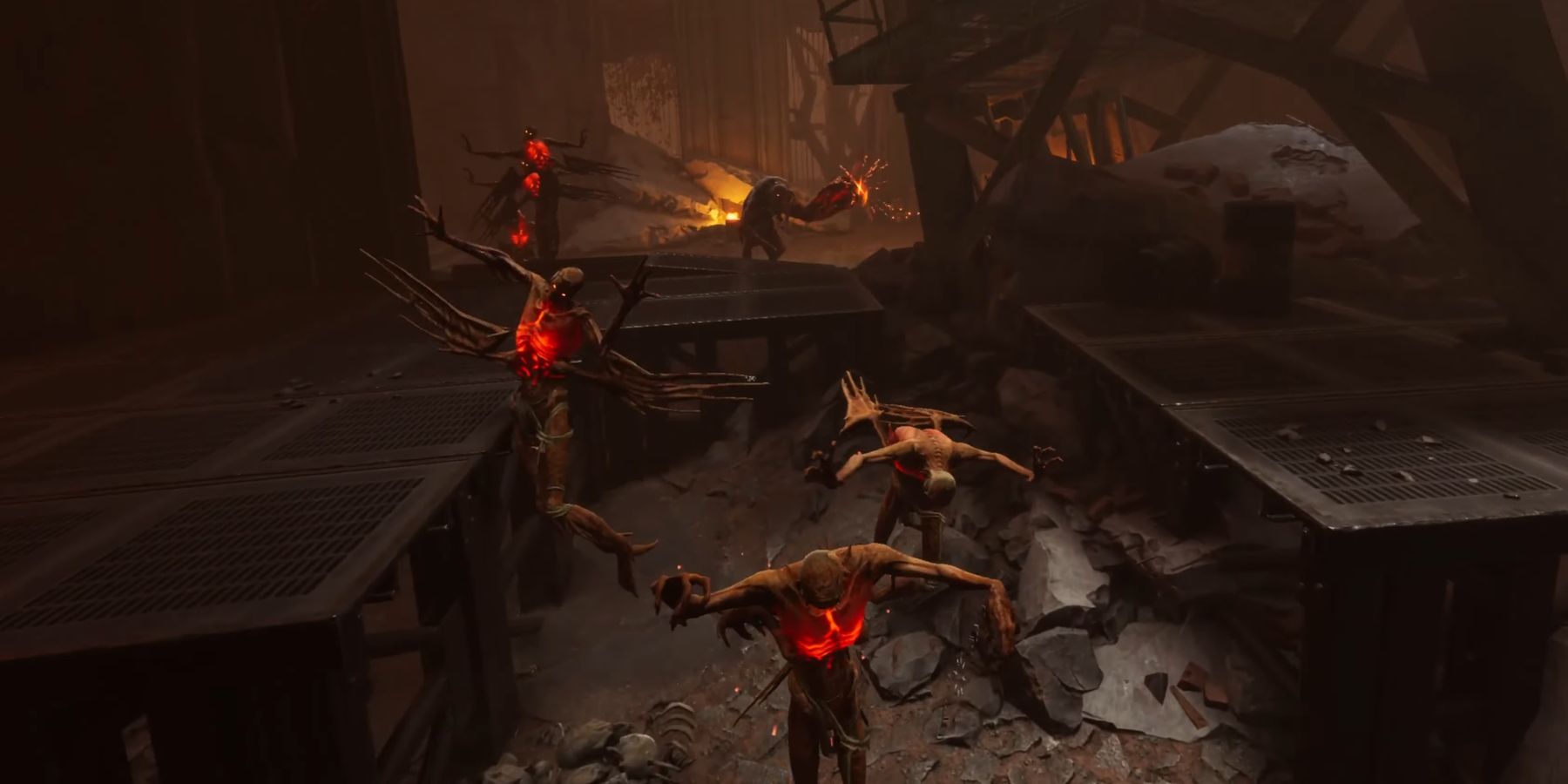 A new mod for developer The Outsiders' rhythm-based shooter Metal: Hellsinger adds full VR support to the game, giving players a more immersive way to enjoy the demon-filled title. The unique genre mashup, which plays like a musical version of Downfallis one of many recent titles that have helped shake up a rhythm game market that had become increasingly stale.
Released in late 2022 by Swedish developer The Outsider, Metal: Hellsinger combines the gunplay of a traditional first-person shooter with rhythm-based gameplay that rewards players for killing enemies in time with the music. The hard-hitting soundtrack for Metal: Hellsinger features heavy metal icons such as Lamb of God's Randy Blythe performing alongside other famous vocalists and musicians, giving the game a sense of authenticity that is sure to delight fans of the musical genre. The game was generally well received when it was released for consoles and PC in 2022, with many players and critics praising Metal: Hellsinger to create a unique tribute to both heavy metal and classic shooters.
RELATED: Original NES Legend of Zelda Can Be Played in VR Thanks to a Doom Mod
In a new tweet from Flat2VR, a modding community focused on adding VR support to flat screen titles, it was announced that Metal: Hellsinger is the latest major release to get a VR makeover. The mod, which the tweet describes as "if Audica / Pistol whip had children with Eternal doom," adds support for VR and full motion controls to the rhythm shooter and is now available to download for free from modding site Nexus Mods. For players who have yet to experience the new content included in the Metal: Hellsinger Update 1.5, this VR mod could be a good excuse to jump back into the shoes of The Unknown for another ride through hell.
The tweet announcing the mod's release included a video showing several minutes of Metal: Hellsinger gameplay captured in VR, showing how well the title's unique rhythm-based footage translates to the more immersive format. Featuring a player swiftly darting around a selection of the game's levels while deftly dispatching demonic hordes, the video makes it clear that Metal: Hellsinger remains as hectic and fast-paced an experience in VR as it does on a flat screen. Gamers who responded to the tweet were excited about the prospect of experiencing the game in VR, with one commenter saying that the mod's release had cemented their decision to finally purchase Metal: Hellsinger.
Although the rhythm game genre continues to experience an unexpected renaissance, Metal: Hellsingerits unique blend of music and chaos manages to set it apart from the crowd. And with the opportunity to truly enter the game's heavy metal take on Hell now just a download away, it could be the perfect time for players to revisit the fiendishly creative shooter.
Metal: Hellsinger is now available for PC, PS4, PS5, Xbox One and Xbox Series X/S.
MORE: Metal: Hellsinger, Trombone Champ Spell a Bright Future for Original Rhythm-Based Games