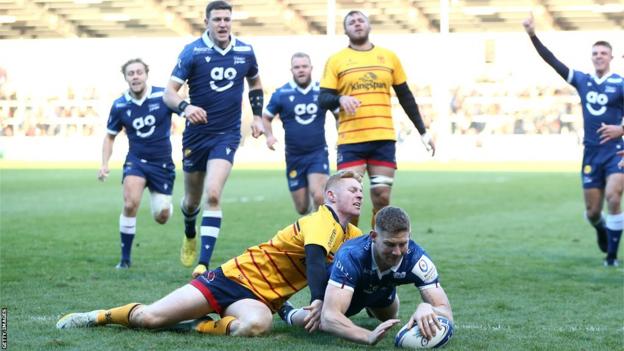 Place:
Kingspan Stadium, Belfast
Date:
Saturday 21 January
Kick-off:
20:00 GMT
Coverage:
Live commentary on BBC Sounds, BBC Radio Ulster and the BBC Sport website
Ulster tighthead prop Jeff Toomaga-Allen says the Irish province must aim to "bully the bully" on Saturday when they face a Sales side that embarrassed them 39-0 just six weeks ago.
Sale ruthlessly overpowered an Ulster side who only arrived in Manchester on the morning of the match after snow.
But former All Blacks player Toomaga-Allen says Ulster must believe they can match Sale's physicality.
"You have to meet fire with fire and meet them head on," he insisted.
"That's their game plan and their biggest strength as well. Their physicality and we either have to match it and beat it or be beaten."
Although Ulster have lost six of their last seven games, including three defeats in Europe, victory over the Sharks on Saturday night could be enough to earn Dan McFarland's side a place in the knockout stages of the Heineken Champions Cup.
The La Rochelle home game was controversially moved
Toomaga-Allen, who earned a full cap for the All Blacks in 2013 before representing them in two non-capped games in 2017 and now hopes to play for Samoa at this year's World Cup, says a big home crowd this weekend will help the underdog hosts.
It will be Ulster fans' first opportunity to see the team in European action at home this season after the match against La Rochelle on December 17 was controversially moved behind closed doors to Dublin's Aviva Stadium following freezing conditions that week in Belfast.
"We mentioned it today (that it's the first European game of the season at Kingspan Stadium)," the Wellington-born prop said at Ulster's weekly press conference.
"The boys are really excited to get back to playing in front of our home crowd. Just playing football and having fun. You could feel it in practice today. We just had fun and that's what it's all about."
The most effervescent of characters, 32-year-old Toomaga-Allen joined Ulster last summer following his three-year stint with Wasps after moving to the English Premier League side from the Hurricanes in 2019.
Toomaga-Allen's time with Wasps saw him bulk up to cope with what he says are the more physical demands of northern hemisphere rugby as opposed to the "faster pace of Super Rugby".
"It took me a year to learn the difference, adjust my body weight and learn to run around with the body weight I had because I ran around a lot lighter in the Super because I had to be faster.
"That was all I knew, but with the thrill of doing something new, that's what drew me abroad as well."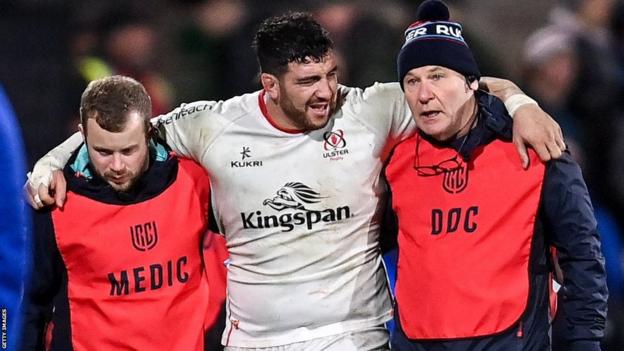 An ankle ligament injury has limited the All Blacks to just four games for Ulster so far, but two of those came in Ulster's final games when, unusually for a prop, he played all 80 minutes in the narrow defeat to Benetton before playing for 70. in last weekend's heartbreak last gasp European loss against La Rochelle.
Marty Moore's own injury accident suffered against Munster on New Year's Day meant Toomaga-Allen got his chance and he is determined to keep Ulster's number three jersey, despite the presence of Ireland team-mate Tom O'Toole in McFarland's forward options.
"I'm kind of happy with the fact that it's a special thing to do for a tighthead prop to play 80 minutes," the Wellington native added.
"And the fact that I did it five or six weeks out just justifies the frustration I went through with all my hard work [to get back]."
But despite the competition for the number three shirt, Toomaga-Allen insists the tighthead hopefuls are all pushing each other "to get better".
"It can be quite competitive, an alpha male vibe, but I think here we all help each other grow. I've always said, the better I am, the better you can be."
"Dive In – You'll Love Belfast"
Toomaga-Allen says a recommendation from another former Ulster favorite and former All Blacks prop John Afoa convinced him to make Belfast the next stop on his rugby journey.
"He's a great friend and mentor of mine. He helped me through the Premier League and had played here so I called. He said to me 'dive in, you're going to love it'.
Dan McFarland took the first direct approach to the prop and Toomaga-Allen says the Ulster coach's "attention to detail" on all aspects of first-row play is something he has never experienced before.
"It can be annoying sometimes I'm not going to lie but it makes you so much better because he's trying to get the best out of you. Not annoying in the fact that he's annoying, more you go "duh.. .I should do that'.
"I just thought what a great opportunity to learn from a specific coach.
"For me, moving here especially, I'll never be old. I'll never stop learning. I've been in this game for over 10 years now at a professional level and you can't stop wanting to learn Because otherwise you grow you not."