Coco Gauff, who rose to fame by reaching the Wimbledon last 16 as a 15-year-old in 2019, is the latest leading WTA Tour player to write a BBC Sport column.
In her final piece before the Australian Open fourth round, the American seventh seed talks about her second role as a TikTok trendsetter and how her father became a viral sensation.
Professional tennis can be a tough business, so it's important to find a way to relax – I love to do that by making videos on TikTok.
I think it's the best way to escape from tennis. Maybe some people think there are better ways to run away from things, but that's the Gen Z way!
It's the only app where I'm not necessarily seen as a tennis player. Some people who follow me don't even know I play tennis.
Obviously, people follow me on Instagram and Twitter, which is mainly all tennis content, whereas I rarely post tennis content on TikTok. I only put things in there if I can make it fun.
I had a viral dance that had millions of views. No one knew it was my dance – that's my fun fact.
I did it as a joke and influencers with millions of followers danced and some of them gave me credit. So maybe I'm a trendsetter on TikTok!
It's not the only dance I've gone viral, in fact I had one this week that got two million views.
The reason it went viral was because of my dad! Everyone loves the video of him dancing – mainly because he wasn't very good at it.
My dad claims he doesn't like the attention, but I think he secretly loves it. He's the type of person who likes to make people laugh.
He definitely plays into it! He did a remake after the first video and if I asked him to do another video I'm sure he would.
The video was a trend for "partying next door" and everyone does it with their parents, but I think I was the first person who didn't teach them the dance, I just told them to copy me.
I think the reason it blew up is because I created my own trend – and maybe because people thought my dad was trash.
When I told my dad it had gone viral and how many views it had, he said, "What does viral mean? And do I get a check?" He needs to get paid!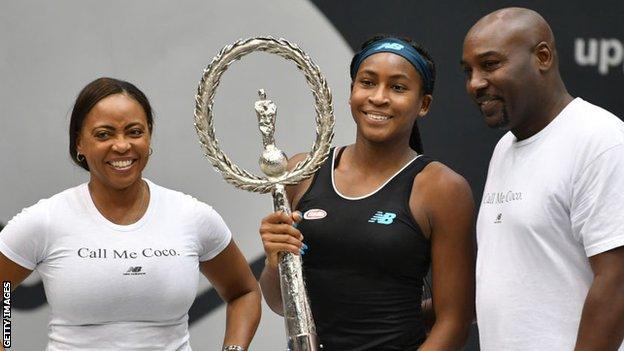 How listening to Jaden, The Weeknd & J Cole puts me in the zone
People will have seen that when I go out on the field, I usually have my headphones on.
Doing this really started at Wimbledon in 2019 – where I had my breakthrough when I was 15 – because I didn't want to hear the crowd when I went forward.
I didn't do it in the qualifiers, it just started with the main draw. I didn't want to hear the crowd because I thought it would make me more nervous, and you'll see when I look back that I always went in with my head down.
Even now I'm older and more experienced, wearing the headphones and listening to hype music is something that has stuck.
Now I've gone from walking with my head down to looking up at the crowd. I feel like I've now become comfortable enough to wave to the fans a bit too. Sometimes I don't, it depends on how nervous I feel.
The only time I don't use my headphones is if I forget them.
I turn the volume down so I know when I'm told to get out of the tunnel, and then I turn the music back up to full blast.
It's not really a superstitious thing, I'd say I'm not a superstitious person.
The last song I play – the one that really gets me pumped when I go out – changes from tournament to tournament.
But so far this year I've gone back to my roots – I'm playing Icon by Jaden Smith. That's what I listened to at Wimbledon in 2019.
I really love this song. The instrumental that plays at the start gets me pumped up and the song makes me feel like an icon!
I'm into all types of music, but the number one artist on my wrap last year was The Weeknd. Then there was Jaden, followed by J Cole. They were my top three artists last year and who I listened to the most.
This year I've also been listening to Childish Gambino a lot.
I'm the type of person who will wear out one artist on a tour and then associate that music with a particular tour.
You get one album that you love and you just keep repeating it – I'm sure a lot of people can relate to that.
It was me with the SZA album in Auckland, that's all I listened to. I had three weeks with it, so it was time to change it again.
But it was the soundtrack to me winning the title in Auckland, so now I'm hoping Childish Gambino can be the soundtrack to an even bigger trophy here in Melbourne.
Coco Gauff spoke to BBC Sport's Jonathan Jurejko at Melbourne Park.

Coco's former columns from Melbourne